---
news november 30th, 2007
Well, a long time since we've been updated. We played the South Of Mainstream Festival in september this year with Ostinato, Chrome Hoof, Orange Goblin and the likes. Check out www.southofmainstream.de for pictures.
Actually we try to get a new design and hope to present this to you very soon.

We have a new show planned in february 2008 in Bietigheim-Bissingen at the DOOM IN BLOOM festival. This festival took place in 1996 originally as Uwe played in NAEVUS still. Check it out here www.rockground.de.
We don't have further plans for shows in 2008, it all depends on family and business duties. Go and check out BEEHOOVER on their tour in march (?) on the Exile On Mainstream Road Show, along with mates End Of Level Boss.

In the meantime there was the official release of "Marie's Sister's Garden" in North America and Canada. Soon we're on a Exile On Mainstream compilation which will be included in a big swedish magazine.
---
Interview

july 08th, 2007


Please go to http://www.tinnitus-mag.de/interviews.php?id=267 for an indepth interview. In german only, sorry.
---
Interview may 15th, 2007
Please go to www.hellridemusic.com for an indepth interview.
---
Shirts available may 14th, 2007
We have shirts available, check the shop section at the bottom. There will be a new design on the website very soon. Hope you enjoyed the Beehoover tour with the Hidden Hand and magic Stinking Lizaveta. Great to have you back guys.
Also there will be a new lyrics page updated and new photos and etc.... SOON! Thanks for visiting the page - Voodooshock!
---
Release party/ Leipzig show may 7th, 2007
We had a great show in Stuttgart at the end of march with Gorilla Monsoon and Mirror Of Deception. We had about 200 people coming out and we had a great time. The first Voodooshock live show after 1 year!
Leipzig on may 5th was a great too. Beehoover was first and I jumped on the stage after 25 minutes for playing the Voodoo set. It was fun listening to Stinking Lizaveta, a charming band. And great to see The Hidden Hand once again. Happy Birthday Matt.

---
Release Dates march 8th, 2007
Out April 9th 2007!
(in Germany: March 9th)
VOODOOSHOCK "Marie's Sister's Garden"
A well woven combination of riffs, bluesy structures and soulful vocals culminating to form an emotionally charged journey rooted in Sabbath tradition. This is the new and long-awaited effort of one of the best DoomRock outfits there are! Feat. Uwe Groebel (Ex-NAEVUS)
---
Promos in and out
january 26th, 2007
Promos arrived yesterday at EOM office and were sent out already. Hope you like it.
---
Voodooshock second full lenght and others january 14th, 2007

Voodooshock entered studio end 2006 and recorded a new album in three days. 12 songs were recorded, 11 will be used for the cd on exile on mainstream records. Release will be this spring, tba. Check this space for press release in the next weeks. The mastering CD will be send to the pressing plant this week.

Artwork is done by www.bersecker.com.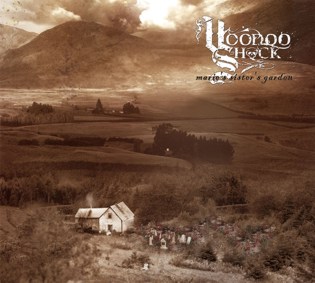 New CD will be entitled "Marie's Sister's Garden".

Voodooshock is available at myspace.com/voodooshock as well. Check back regularly as it is more easy to blog there than to change the website for me.
---
studio booked august 20th, 2006

studio is booked at the end of the year for a 2007 release.
---
7" out now! April 25th, 2006

Yes, we have it, get it fast! Order here on this page!
---
7" delayed March 30th, 2006

We're sorry to say the single is delayed, one more week to go :( Check out our new guestbook. Well, it will be next week from the 18th on...
---
New 7" on the way February 21nd, 2006

We'll have a new 7" at the end of march. Release date will be the Doom Shall Rise festival in Goeppingen, Germany (march 31st, april 1st, www.doomshallrise.de). The songs are "The Golden Beauty" and "Live For The Moment". Both songs feature new line-up with Claus-Peter Hamisch (drums) and Ingmar Petersen (bass guitar). Once again we're working with Psychedoomelic Records on this release.
In the meantime check out the new Place Of Skulls.
---
Happy New Year!
December 31st, 2005
We wish all the best for the year 2006. My wife and I have a baby-son since dec 12th and we're really happy that all went well for Ole Nikke. His sister Emilia is excited as well.
We really hope to see you!
---
Pre-Production/ demo December 2nd, 2005

Uwe does some pre-production for the new album. Various songs will be recorded for the band in the next weeks.
---
Video Clips available October 19th, 2005

Please check out some new small videos clips from the Nuremberg and Geisslingen show (Mirror Of Deception birthday show). Go to the MUSIC section and have a look. The NAEVUS sounds are not available anymore.
BEEHOOVER play Berlin this Saturday, 22nd. Check out their website for more info.
---
Mirror Of Deception birthday show October 9th, 2005

We played a short show on the Mirror Of Deception birthday show on last friday. Songs were Fountain Of Freedom, Lady and Tomorrow's Bloom. A cover tune of MOD was a "Foregone" medley including a "Words Unspoken" type blues. We totally freaked out and my vocals were completely shit as I have a totally bad cold. No voice at all. But it was totally fun and we really enjoyed the night. Thanks to all the people who bought shirts and CDs! Thanks to Jochen for offering us the small support. Cheers!
---
Nuremberg September 25th , 2005

Thanks to all of you who visited the Nuremberg show and came to see us. Thanks for buying the new shirts and we hope to see you soon again! A big thanks to Axel and Frank for giving us a really nice place to crash. Thanks for the excellent catering for mom Seb and all involved. And thanks to Claus and Ingmar of course, it was a great first show!
---
Beehoover August 30th , 2005

Claus and Ingmar from Voodooshock have an own band called "Beehoover". Check their music out on the music page, or got to their website at www.beehoover.com. The new ep "A Mirror is A Window's End" is total awesome stuff. And if you like it, go and buy it at www.kozmik-artifactz.de.
Check out the new Mirror Of Deception homepage (at the Links page). They celebrate their 15th birthday on october 7th, 2005 in Geislingen/Steige with special guests :)
---
Voodooshock live
August 23rd , 2005
Voodooshock plays their first show with the new line-up on september 24th at the Zentralcafé,K4 in Nuernberg, Germany. It's the 17th birthday celebration of radio-station Zosh!. Other bands playing are: SHAPESHIFT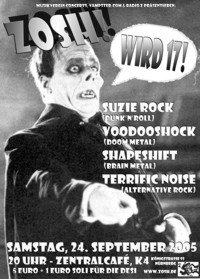 ---
New Voodooshock line-up August 22nd , 2005

Here we are again brothers in doom. Michael quit the last weeks as we're not able to bring our time-tables together. As we're 400km seperated we can't manage the situation properly and decided to go seperate ways at the moment. Thanks at this point to you, Michael for your input into Voodooshock and our friendship.
So the new members are:
Claus-Peter Hamisch on drums (beehoover)
Ingmar Petersen on bass guitar (beehoover)
Expect some new and fresh music on this site in end august. Thanks for your patience.
---
DOOM SHALL RISE III April 18th , 2005

Thanks to all the people I met at the DSR in Goeppingen. It's been great to see you all again. In the meantime I'd like to announce a new drummer for Voodooshock. We quit with Christian Specker and were joined by Mathias Straub of Sacred Steel, ex-NAEVUS fame. So let's see what happens in the next months but obviously we can't promise the new album for this year due to problems of our time-tables. But we give our best to have the right songs. Stay tuned for this. All the best, Uwe.
---
PLACE OF SKULLS
March 21st, 2005
Place Of Skulls headlines the Doom Shall Rise festival in Goeppingen, Germany, on april 16th!
---
Sounds of NAEVUS February 5th, 2005

Before we present some new snippets of new songs, I've put the complete NAEVUS album "Sun Meditation" (1998 on Rise Above Records) online as mp3 only for a short time. So if you're interested what happened before Voodooshock, get it from the music page, scroll down to the NAEVUS link.
---
Weekend Jam January 21st, 2005

Jammed the weekend and did four new songs. Time schedule for 2005 looks like we record in summer time for a late summer release. So we have enough time for artwork and putting the right songs on the record. It will be different than the last album I think. Maybe too early to say. A lot slower than the first. And HEEAAAVY!
---
Voodooshock back online January 2005

Hello and welcome back to the new Voodooshock home-base. Here you will find news and updated stuff from the band. Not all contents are finished and done. More soundclips will be on the way very soon.
Voodooshock is actually working on new songs and will prepare for a new album in 2005. Next Jam will be on january 15th and 16th. We speak about various songs, which we prefer for the next album. We sign to a different label than we did on the first album. Thanks to Mark from Psychedoomelic Records at this point for giving us great support. Go to the music site to order any of the stuff. It's possible to over from all over the world via paypal. Very easy. Just try it out.
The next album will be released via EXILE On Mainstream Records in Berlin, Germany. Andreas Kohl, chief inspector did great works on band like The Hidden Hand, Ostinato and Shepherd so far (well he is in Shepherd actuallly). So we speak about a 2005 release. EOMR is distributed by Southern in Europe.