Band-Bio From the beginnning

Uwe Groebel started Voodooshock, after NAEVUS split in 1998, with various drummers and bassplayers until he recorded the first Voodooshock demo in 2000 with Matze Siffermann and Oli Merkle from End Of Green.
In 2001 he was joined by Michael Greilinger (bass) and Christian Specker (drums). At first it was only for the recordings, just to see how it is working together for the already written songs. But then they knew shortly that this is really working out. VS recorded in 5 days and released the debut cd on Psychedoomelic Records in 2002. The rerelease of the demo with two extra songs in 2004 and a split 7" with Conans Iron Kind (US) via Psychedoomelic Records and Game Two Records (US).

In june 2005 Voodooshock returned to the rehearsal room with two new members. Ingmar Petersen on bass guitar and Claus-Peter Hamisch on drums. Both play in Beehoover. A great band!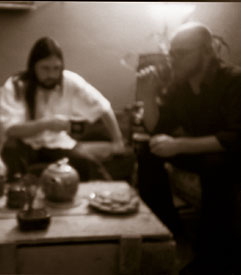 Voodooshock recorded two new songs for a 7" single on Psycheddomelic Records. "The Golden Beauty" and "Live For The Moment".
End December 2006, Voodooshock will enter studio for an upcoming release in 2007 on Exile On Mainstream Records.


---
Uwe Groebel Guitar/Vocals
Started playing guitar with the age of 14.Heros were Steve Vai and Hendrix. The first band he founded was NAEVUS from 1991 to 1999. He played guitars and did the vocals. At the beginning it was more like a slow death-metal band in the veins of Anathema/ My Dying Bride/ Asphyx and developed more and more into this rock/doom thing, very much influenced by Black Sabbath and the likes. They recorded three demos through the years and with the last demo "Autumn Sun" in 1996 they signed a deal with Lee Dorrians' Rise Above Records, UK. The debut recording was recorded in 1997 and released in 1998. In 1999 Rise Above and Music For Nations let them go due to lack of money (that's what MFN said…) and the band split in may 1999. Two other guys from NAEVUS, Mathias Straub plays in Sacred Steel, Oliver Grosshans plays in My Darkest Hate.
Personal Favourites/ bands
1. Cathedral - Forest Of Equilibrium and The Carnival Bizarre
2. Saint Vitus - V
3. Black Sabbath - Volume 4 and Masters Of Reality
4. Penance-Parallel Corners
5. Soundgarden - Badmotorfinger and Louder Than Love
6. The Obsessed - all
7. Alice in Chains - dirt
8. Acrimony - Hymns To The Stone
9. Pentagram - Day Of Reckoning
10. Death - Spiritual Healing and Human
11. Entombed - Clandestine
12. Carcass - Necroticism/ Descanting The Insaloubrious
13. Confessor – Condemned
14. Pothead – Desicatted Soup
15. Ostinato - new one in 2006
16. Place of Skulls - The black is never far
17. Arcade Fire
More to be added…
---
Ingmar Petersen Bass guitar
soft machine
melvins
primus
helmet
crowbar
eyehategod
tool
huun huur-tu
black sabbath
isis
clutch
more info soon
---
Claus-Peter Hamisch drums
info soon
---
Michael Greilinger (Bass guitar on s/t and parts onVoodoom EP)
At the sweet and innocent age of 14 years, Michael Greilinger got an accoustic guitar and taught himself three chords. That was just enough to play the bass in a couple of high school bands. Things started to get more serious in 1994, when Michael founded "Windfall", the legendary doom band located in the Basle countryside area. Michael played the guitar and also used his charismatic vocal cords, which one either loved or hated. By releasing a single demo casette and playing a couple of excess-fueled gigs, "Windfall" gained a cult status. In true cult manner, the band died a sudden, unexpected death. Michael consequently joined Basle's notorious psychedelic-death-rock outfit "Phased 4°F", where he played lead guitar. In 2000 "Phased 4°F" shrunk themselves, a five-piece became a trio, with Michael as the bass player, and "Phased 4°F" became "Phased". With Michael, the band did a couple of 7"es, 10"es and two albums and played several European tours. In 2002 Michael turned his back on "Phased", as he felt he had to go back to his doomed roots when he had an offer to join "VoodooShock" and record their first album. The rest is history...
Personal Favourites/ bands:
1. Saint Vitus - Hallow's Victim
2. Sleep - Sleep's Holy Mountain
3. Electric Wizard - Come My Fanatics.
4. Revelation - Salvation's Answer
5. Penance - The Road Less Travelled
6. Confessor - Condemnded
7. Captain Beefheart - The Spotlight Kid
8. Fates Warning - Awaken The Guardian
9. Blood Farmers - Blood Farmers
10. The God Machine - Scenes From The Second Storey
11. Edgar Broughton Band - Wasa Wasa
12. Angel Witch - Angel Witch
13. Only Living Witness - Innocents
14. Stillborn - Necrospirituals
15. Winter - Into Darkness
16. Nick Drake - Five Leaves Left
17. Melvins - Lysol
18. Brian Eno - Here Come The Warm Jets
19. Johnny Cash - American Recordings
20. Reinsanction - Mariposa
Material:
Fender Bassman 100, Silverface. Ibanez Roadster Bass, black. Ziegelhof
Beer, Parisienne cigarettes.
---
Christian Specker (Drums on s/t and parts of Voodoom Ep)
Really early he punished moms pans and cans. So at the age of 8 years his dad produced the first drums from out of washing powder cans. First shows he played in crazy and obscure scholl festivities ( sadly there are no recordings of it…). He decided to learn drums at the jazz school for two years. Specki plays in monochrome today.
1. The Beatles
2. Frank Zappa
3. John Coltrane - Interstellar Space
4. John Coltrane - A Love Supreme
5. Fugazi - Repeater
6. Oasis - All
7. Neil Young - After The Gold Rush
8. Faith No More
9. Deftones - White Pony
10. Foo Fighters - The Colour And The Shape
11. Cynic - Focus
12. The Action
13. The Zombies
14. Immortal - Battles In The North
15. Only Living Witness - Innocents
16. John Zorn - Filmworks Ix
17. Masada
18. Eric Dolphy - Out To Lunch
19. Miles Davis Quintet
20. Robert Wyatt